The Elmbridge Model Club is based in Surrey, it has a Membership of over 200, which the Club is keen to expand, and is proudly regarded to be one of the largest and most successful multi discipline Model Clubs in the UK.
Potential new members are encouraged to visit the sites and a warm welcome and introduction to the Club is guaranteed.
The Club currently owns two large secure purpose-built sites.
The Boat and Car site are situated in Egham, which has a lake to cater for a variety of marine models, including IC and electric power boats, scale models and sailing.
The site regularly hosts National Regatta's attracting competitors and spectators from throughout the UK.
The site also provides two off-road tracks for 1/5th scale, and 1/8 - 1/10, RC car racing.
On site facilities include a Club House, toilet facilities and storage containers for rescue boats and maintenance equipment. The lake site has two large jetties from which boats are operated, and the racetrack has a rostrum and pits for drivers.
Both Sections have secure on site car parking facilities.
The Air site is situated in Ripley, which offers similar facilities to that at Egham, and a mown pits area and runway, from which RC aircraft take off and land. The Section caters for a wide range of RC IC and electric powered aircraft.
Slope Soaring
Although not owned or managed by the Club, Members are also able to enjoy the southerly wind slope soaring facilities at a site situated at Colley Hill in Reigate.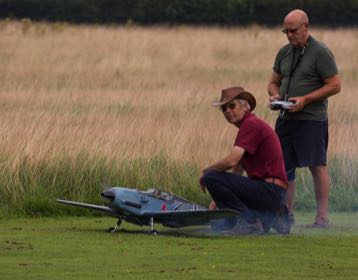 Copyright Elmbridge Model Club ©2017 2020 All Rights Reserved